Background

I've got a very long standing interest in the Tornado - as it was the first simulator that I worked on in 1984. I worked on the F2-ADV variant for the RAF, delivered to the TTTE  at Cottesmore (the only reference I can find is this citation http://www.emeraldinsight.com/doi/pdfplus/10.1108/eb035909).
Obviously I've sat in and flown the simulator (as pilot and WSO); however it didn't have a visual system, but everything else was there, and it was fun to fly; however I doubt my memory can be relied on for any flight characteristics (not that I even understood what it all was back then). 
I've always planned on making a flight model for the Tornado - but it's a very complicated aircraft in terms of the aerodynamics and the systems that need to be simulated, and then there's all of the fun stuff that you get to use in the backseat.
So I built a model using VSPAERO. This model is not publicly available.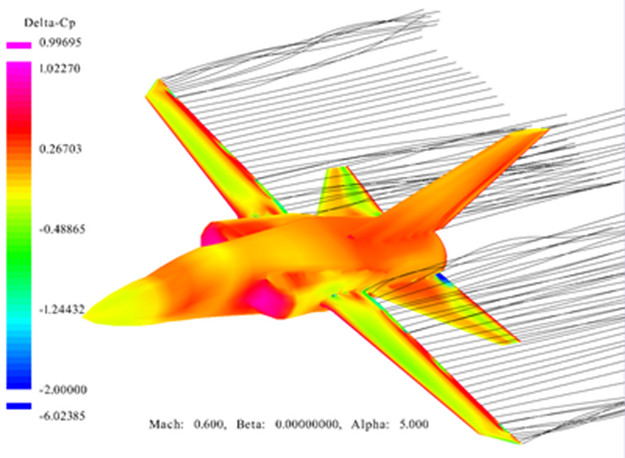 Tornado Geometry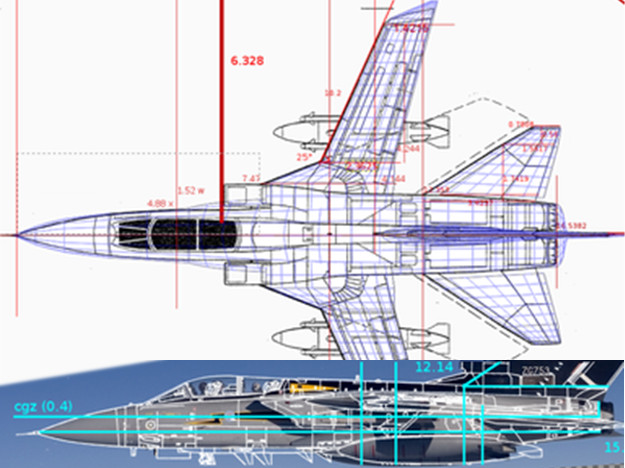 Fuselage
| Section | Num | X | Z | Width | Height |
| --- | --- | --- | --- | --- | --- |
| Fuselage | 1 | 2.83626 |  0.24986 | 1.16000 | 1.33064 |
| Fuselage | 2 | 4.89676 | 0.61101 | 1.96000 | 1.52000 |
| Fuselage | 3 | 10.90290 | 0.36298 | 1.76000 | 2.62265 |
| Fuselage | 4 | 16.10943 | 0.15968 | 0.98000 | 2.10955 |
| Overall Length | 16.54 |   |   |   |   |
Wing root section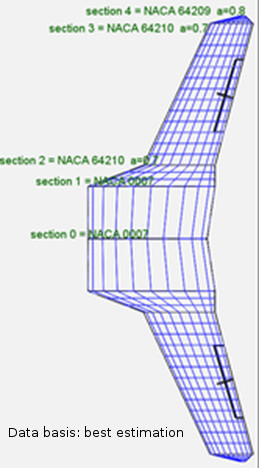 span 13.44000
chord 2.28732
area 30.59075
Wing section 1: NACA 0007, root chord 3.58531, tip chord 3.82000. span 1.58, sweep 0, twist 0, dihedral -5
Wing section 2: NACA 64210  a=0.7, root chord 3.82, tip chord 2.15, span 0.64, sweep 69, twist 0, dihedral -5
Wing swept section
Wing section 3:   NACA 64210  a=0.7, root chord 2.15, tip chord 1.29. span 4.28, sweep 25, 45, 67, dihedral -5
Horizontal Stabiliser :
span 4.2
area 9.06
section 1:   NACA 64206  a=0.0, root chord 3.44, tip chord 1.58. span 1.54, sweep 55, twist 0, dihedral -5
section 2:   NACA 64002  a=0.0, root chord 1.58, tip chord 0.78, span 0.56, sweep 57.2, twist 0, dihedral -5
Vertical tail:
span 3.19
area 9.50
section 1:  NACA 0012, root chord 5.30, span 0.44, sweep 75.8
section 2: NACA 0009, root chord 3.5, span 2.76, sweep 51
section 3: NACA 0007
Supersonic aerodynamics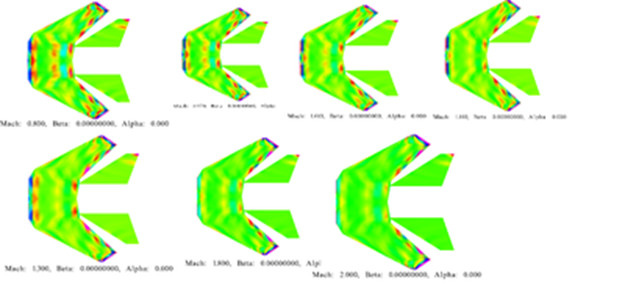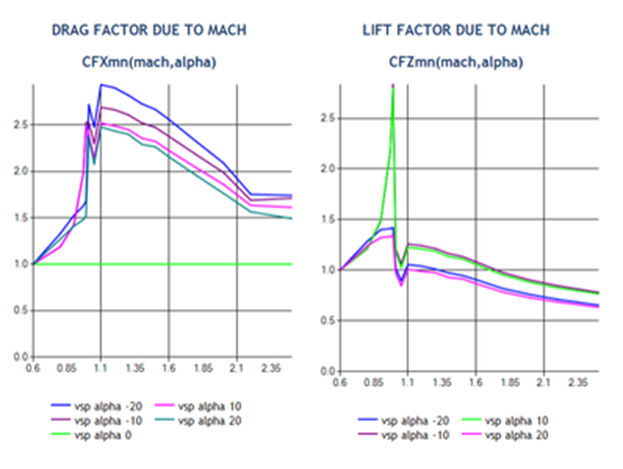 Model summary
| Dependent variable | Independent variables | Axis | Description |
| --- | --- | --- | --- |
| CSPL | WSP |   | SPOILER EFFECTIVITY DUE TO WINGSWEEP |
| CFXB | alpha,elevator | DRAG | BASIC DRAG |
| CFXDSDL | alpha | DRAG | DRAG INCREMENT DUE TO LEFT SPOILER DEFLECTION |
| CFXDSDR | alpha | DRAG | DRAG INCREMENT DUE TO RIGHT SPOILER DEFLECTION |
| CFXSPL | alpha | DRAG | DRAG INCREMENT DUE TO SPOILER DEFLECTION |
| CFZB | alpha,elevator | LIFT | BASIC LIFT |
| CFZDSDL | alpha | LIFT | LIFT INCREMENT DUE TO LEFT SPOILER DEFLECTION |
| CFZDSDR | alpha | LIFT | LIFT INCREMENT DUE TO RIGHT SPOILER DEFLECTION |
| CMM1 | alpha,elevator | PITCH | BASIC PITCHING MOMENT |
| CMMQ | alpha | PITCH | PITCH DAMPING DERIVATIVE |
| CMMALPHADOT | alpha | PITCH | PITCH MOMENT DERIVATIVE FOR ALPHA DOT |
| CMMBETADOT | alpha | PITCH | PITCH MOMENT DERIVATIVE FOR BETA DOT |
| CML1 | alpha,beta | ROLL | BASIC ROLLING MOMENT |
| CMLP | alpha | ROLL | ROLL DAMPING DERIVATIVE |
| CMLBETADOT | alpha | ROLL | ROLL MOMENT DERIVATIVE FOR BETA DOT |
| CMLDTD | alpha,elevator | ROLL | ROLLING MOMENT DUE TO DIFFERENTIAL TAIL DEFLECTION |
| CMLDSDL | alpha | ROLL | ROLLING MOMENT DUE TO LEFT SPOILER DEFLECTION |
| CMLDSDR | alpha | ROLL | ROLLING MOMENT DUE TO RIGHT SPOILER DEFLECTION |
| CMLDRD | alpha,beta | ROLL | ROLLING MOMENT DUE TO RUDDER DEFLECTION |
| CMLR | alpha | ROLL | ROLLING MOMENT DUE TO YAW RATE |
| CFYB | alpha,beta,elevator | SIDE | BASIC SIDE FORCE |
| CYDTD | alpha,elevator | SIDE | SIDE FORCE DUE TO DIFFERENTIAL TAIL DEFLECTION |
| CYDSDL | alpha | SIDE | SIDE FORCE DUE TO LEFT SPOILER DEFLECTION |
| CYDSDR | alpha | SIDE | SIDE FORCE DUE TO RIGHT SPOILER DEFLECTION |
| CFYP | alpha | SIDE | SIDE FORCE DUE TO ROLL RATE |
| CYDRD | alpha | SIDE | SIDE FORCE DUE TO RUDDER DEFLECTION |
| CFYR | alpha | SIDE | SIDE FORCE DUE TO YAW RATE |
| CMN1 | alpha,beta,elevator | YAW | BASIC YAWING MOMENT |
| CMNBETADOT | alpha | YAW | ROLL MOMENT DERIVATIVE FOR BETA DOT |
| CMNR | alpha | YAW | YAW DAMPING DERIVATIVE |
| CMNDTD | alpha,elevator | YAW | YAWING MOMENT DUE TO DIFFERENTIAL TAIL DEFLECTION |
| CMNDSDL | alpha | YAW | YAWING MOMENT DUE TO LEFT SPOILER DEFLECTION |
| CMNDSDR | alpha | YAW | YAWING MOMENT DUE TO RIGHT SPOILER DEFLECTION |
| CMNP | alpha | YAW | YAWING MOMENT DUE TO ROLL RATE |
| CMNDRDr | alpha,beta | YAW | YAWING MOMENT DUE TO RUDDER DEFLECTION |
Coefficient Buildup
| Axis | Buildup |
| --- | --- |
| LIFT | CFZB + CFZDSDL*DDSL*CSPL + CFZDSDR*DDSR*CSPL |
| DRAG | CFXB + CFXDSDL*DDSL*CSPL + CFXDSDR*DDSR*CSPL + CFXSPL*DSPL |
| SIDE | CFYB + CYDSDL*DDSL*CSPL + CYDSDR*DDSR*CSPL + CYDRD*DRUDD + CYDTD*DTFLX5*DTALD + CFYP*PB + CFYR*RB |
| ROLL | CML1 + CMLDSDL*DDSL*CSPL + CMLDSDR*DDSR*CSPL + CMLDRD*DRUDD*DRFLX1*EPA43 + CMLDTD*DTFLX1*DTALD + CMLP*PB + CMLR*RB + CMLBETADOT*BETADOT + (DLNB*BETA) |
| PITCH | CMM1 + CMMQ*QB + CMMALPHADOT*ALPHADOT + CMMBETADOT*BETADOT |
| YAW | CMN1 + CMNDSDL*DDSL*CSPL + CMNDSDR*DDSR*CSPL + CMNDRDr*DRUDD*EPA43 + CMNDTD*DTFLX3*DTALD + CMNP*PB + CMNR*RB + CMNBETADOT*BETADOT + (DCNB*BETA) |
References
Mass and balance
| Element | X | Y | Z | Unit |
| --- | --- | --- | --- | --- |
| Aerodynamic Reference Point (CoP) | 9.20 | 0.00 | 0.31 | M |
| Aircraft CG | 9.20 | 0.00 | 0.31 | M |
| Element |   | Unit |
| --- | --- | --- |
| IXX | 33000.00 | SLUG*FT2 |
| IYY | 165000.00 | SLUG*FT2 |
| IZZ | 190000.00 | SLUG*FT2 |
| IXZ | 7960.00 | SLUG*FT2 |
| Element | X | Y | Z | Unit | Weight |
| --- | --- | --- | --- | --- | --- |
| Wings | 9.20 | 0.00 | 0.04 | M | 600 LBS |
Ground Reactions
| Element | X | Y | Z | Unit | Index |
| --- | --- | --- | --- | --- | --- |
| NOSE_LG | 4.60 | 0.00 | -1.78 | M | 0 |
| LEFT_MLG | 10.54 | -2.54 | -1.68 | M | 1 |
| RIGHT_MLG | 10.54 | 2.54 | -1.68 | M | 2 |
| LEFT_WING_TIP | 12.09 | -6.91 | -0.58 | M | 3 |
| RIGHT_WING_TIP | 12.09 | 6.91 | -0.58 | M | 4 |
| CANOPY | 5.08 | 0.00 | 1.14 | M | 5 |
| RADOME_FRONT | 0.00 | 0.00 | -0.31 | M | 6 |
| VERTICAL_TAIL | 18.00 | 0.00 | 2.11 | M | 7 |
| REAR_BODY_LEFT | 16.53 | 0.94 | -0.51 | M | 8 |
| REAR_BODY_RIGHT | 16.53 | 0.94 | -0.51 | M | 9 |
Metrics
| Element |   | Unit |
| --- | --- | --- |
| Chord | 3.37 | M |
| Wingspan | 16.22 | M |
| Wing Area | 47.28 | M2 |
| Wing Incidence | 0.00 | DEG |
| ClMax | 1.60 | ND |
Propulsion
| Element | X | Y | Z | Unit | Feed |
| --- | --- | --- | --- | --- | --- |
| Turbo-Union-RB199-34R | 16.75 | -0.54 | -0.09 | M | Left Feed line [1],External Tank [2],Right External Wing Tank [3],Left External Wing Tank [4],Right Wing Tank [5],Left Wing Tank [6],Front Tank Group [7],Rear Tank Group [8] |
| Turbo-Union-RB199-34R | 16.75 | 0.54 | -0.09 | M | Right Feed line [0],External Tank [2],Right External Wing Tank [3],Left External Wing Tank [4],Right Wing Tank [5],Left Wing Tank [6],Front Tank Group [7],Rear Tank Group [8] |
Tanks
| Element | X | Y | Z | Unit | Capacity | Id | Priority | Standpipe |
| --- | --- | --- | --- | --- | --- | --- | --- | --- |
| Right Feed line | 9.20 | 0.00 | 0.31 | M | 10 LBS | 0 | 1 |   |
| Left Feed line | 9.20 | 0.00 | 0.31 | M | 10 LBS | 1 | 2 |   |
| External Tank | 9.20 | 0.00 | -0.19 | M | 1200 KG | 2 | 3 | 50 KG |
| Right External Wing Tank | 9.20 | 4.00 | -0.19 | M | 1200 KG | 3 | 4 | 50 KG |
| Left External Wing Tank | 9.20 | -4.00 | -0.19 | M | 1200 KG | 4 | 4 | 50 KG |
| Right Wing Tank | 9.20 | 4.00 | 0.31 | M | 385 LBS | 5 | 7 | 100 LBS |
| Left Wing Tank | 9.20 | -4.00 | 0.31 | M | 385 LBS | 6 | 7 | 100 LBS |
| Front Tank Group | 8.30 | 0.00 | 0.31 | M | 2128 KG | 7 | 8 | 50 KG |
| Rear Tank Group | 9.14 | 0.00 | 0.31 | M | 1862 KG | 8 | 9 | 50 KG |
Systems
Name
tornado-controls
tornado-hydraulic
tornado-electrics
tornado-avionics
tornado-ecs
tornado-sound
tornado-engines-RB199
tornado-flight-controls
Independent variables
Name
0.85
0.975
0.975
0.975
1
aero/alpha-deg
aero/alphadot-rad_sec-limited
aero/beta-deg
aero/betadot-rad_sec-limited
aero/pb
aero/qb
aero/rb
CSPL
fcs/differential-elevator-pos-deg
fcs/elevator-pos-deg
fcs/rudder-pos-deg
fcs/spoiler-left-pos-deg
fcs/spoiler-right-pos-deg
fcs/spoiler-total-deg
fcs/wing-sweep-pos-deg