The IDG A320 project aims to provide a study level A320 simulation for FlightGear. As part of this project I offered to build a new aerodynamics model to replace the existing one which is derived from aeromatic. 
A320 Geometry
OpenVSP takes a geometric modelling approach which is much better suited to computational aerodynamics than a polygon or mesh based model.
All dimensions are in meters.
PDF of A320 Aerodynamic data plots, generated by VSPAero
Fuselage
| Section | Num | X | Y | Width | Height |
| --- | --- | --- | --- | --- | --- |
| Fuselage | 1 | 0.13345 |  5.01362 | 3.92045 | 3.85227 |
| Fuselage | 2 | 0.68207 | 25.62519 | 3.85227 | 3.85227 |
| Fuselage | 3 | 0.92916 | 34.90838 | 1.30682 | 1.69318 |
| Fuselage | 4 | 1 | 37.5 | 0 | 0 |
| Overall Length | 37.5 |   |   |   |   |
Wing
span 33.78
chord 4.04
area 124.78
Wing section 1: NACA 23015, root chord 7.0, tip chord 3.78. span 6.27, sweep 27, twist 1, dihedral 3
Wing section 2: NACA 23015, root chord 3.78, tip chord 1.60. span 10.62, sweep 27, dihedral 3.26
Horizontal Stabiliser :
span 10.5
area 22.12
section 1: NACA 0010, root chord 6.5, tip chord 3.78. span 4.6, sweep 56.3, twist 0, dihedral 0
sweep 30
Dihedral 5.65
Vertical tail:
span 10.5
area 22.12
section 1: NACA 0010, root chord 6.5, tip chord 3.78. span 4.6, sweep 56.3, twist 0, dihedral 0
section 2: NACA 0017, root chord 4.6, tip chord 1.8, span 4.7 sweep 41.3, twist 0, dihedral 0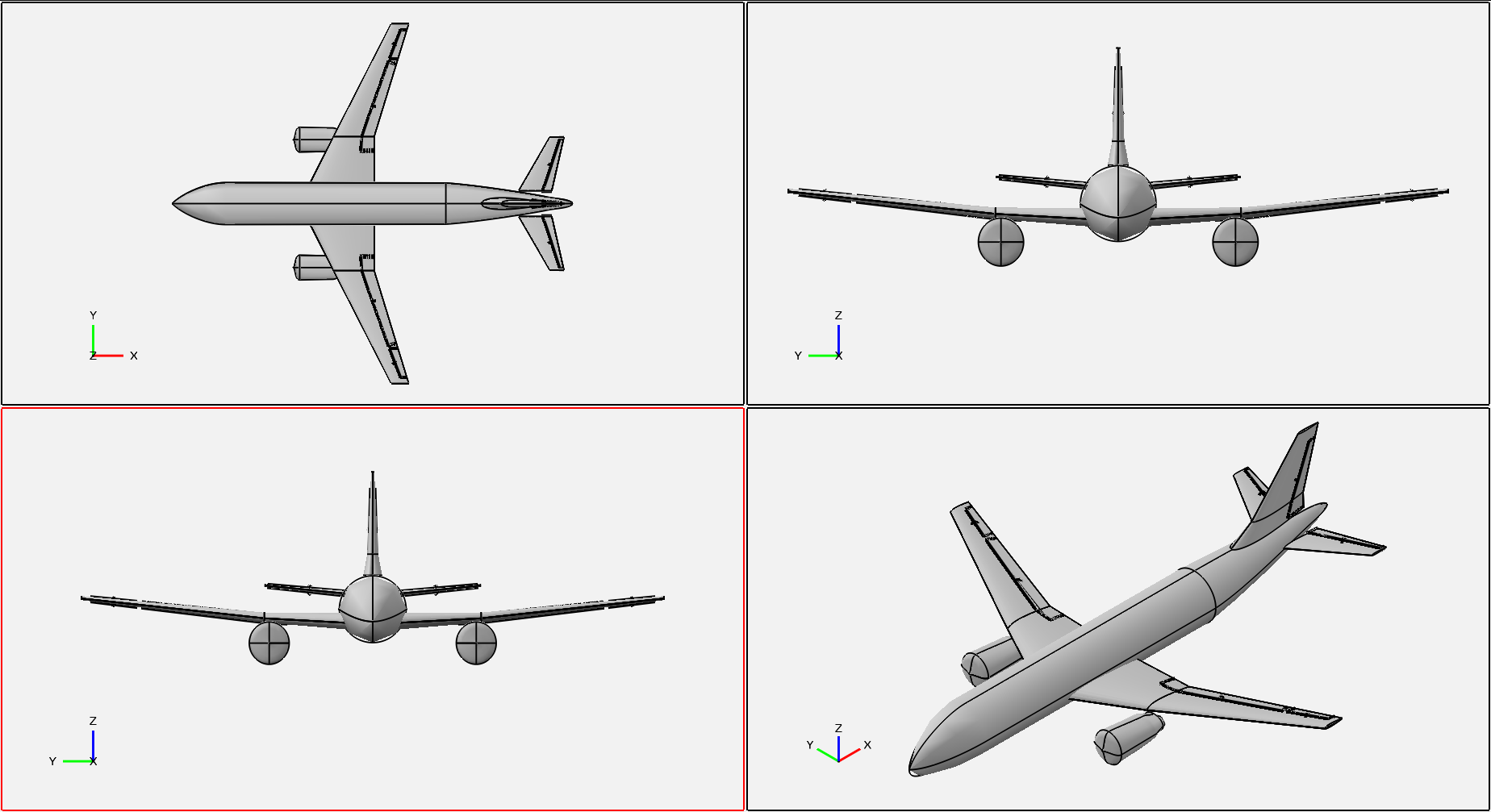 Model summary
| Dependent variable | Independent variables | Axis | Description |
| --- | --- | --- | --- |
| CFXB | alpha,beta | DRAG | BASE DRAG |
| CFXDFM | alpha,flaps | DRAG | DRAG INCREMENT DUE TO FLAPS |
| CFXGEAR | alpha | DRAG | DRAG INCREMENT DUE TO GEAR |
| CFXDADL | alpha,beta | DRAG | DRAG INCREMENT DUE TO LEFT AILERON DEFLECTION |
| CFXMN | mach,alpha | DRAG | DRAG INCREMENT DUE TO MACH |
| CFXDADR | alpha,beta | DRAG | DRAG INCREMENT DUE TO RIGHT AILERON DEFLECTION |
| CFXDRD | alpha,beta | DRAG | DRAG INCREMENT DUE TO RUDDER DEFLECTION |
| CFXDSM | alpha,slats | DRAG | DRAG INCREMENT DUE TO SLATS |
| CFXDSPL | alpha,spoiler-left | DRAG | DRAG INCREMENT DUE TO SPOILERS LEFT |
| CFXDSPR | alpha,spoiler-right | DRAG | DRAG INCREMENT DUE TO SPOILERS RIGHT |
| CFZB | alpha,elevator | LIFT | BASE LIFT |
| CFZDFM | alpha,flaps | LIFT | LIFT INCREMENT DUE TO FLAPS |
| CFZGEAR | alpha | LIFT | LIFT INCREMENT DUE TO GEAR |
| CFZDADL | alpha,beta | LIFT | LIFT INCREMENT DUE TO LEFT AILERON DEFLECTION |
| CFZMN | mach,alpha | LIFT | LIFT INCREMENT DUE TO MACH |
| CFZDDS | alpha,stabilator | LIFT | LIFT INCREMENT DUE TO PITCH TRIM |
| CFZDADR | alpha,beta | LIFT | LIFT INCREMENT DUE TO RIGHT AILERON DEFLECTION |
| CFZDRD | alpha,beta | LIFT | LIFT INCREMENT DUE TO RUDDER DEFLECTION |
| CFZDSM | alpha,slats | LIFT | LIFT INCREMENT DUE TO SLATS |
| CFZDSPL | alpha,spoiler-left | LIFT | LIFT INCREMENT DUE TO SPOILERS LEFT |
| CFZDSPR | alpha,spoiler-right | LIFT | LIFT INCREMENT DUE TO SPOILERS RIGHT |
| CMM1 | alpha,elevator | PITCH | BASE PITCHING MOMENT |
| CMMQ | alpha | PITCH | PITCH DAMPING DERIVATIVE |
| CMMALPHADOT | alpha | PITCH | PITCH MOMENT DERIVATIVE FOR ALPHA DOT |
| CMMBETADOT | alpha | PITCH | PITCH MOMENT DERIVATIVE FOR BETA DOT |
| CMMDADL | alpha,beta | PITCH | PITCH MOMENT DUE TO LEFT AILERON DEFLECTION |
| CMMDADR | alpha,beta | PITCH | PITCH MOMENT DUE TO RIGHT AILERON DEFLECTION |
| CMMDRD | alpha,beta | PITCH | PITCH MOMENT DUE TO RUDDER DEFLECTION |
| CMMDFM | alpha,flaps | PITCH | PITCHING MOMENT INCREMENT DUE TO FLAPS |
| CMMGEAR | alpha | PITCH | PITCHING MOMENT INCREMENT DUE TO GEAR |
| CMMMN | mach,alpha | PITCH | PITCHING MOMENT INCREMENT DUE TO MACH |
| CMMDDS | alpha,stabilator | PITCH | PITCHING MOMENT INCREMENT DUE TO PITCH TRIM |
| CMMDSM | alpha,slats | PITCH | PITCHING MOMENT INCREMENT DUE TO SLATS |
| CMMDSPL | alpha,spoiler-left | PITCH | PITCHING MOMENT INCREMENT DUE TO SPOILERS LEFT |
| CMMDSPR | alpha,spoiler-right | PITCH | PITCHING MOMENT INCREMENT DUE TO SPOILERS RIGHT |
| CML1 | alpha,beta | ROLL | BASE ROLLING MOMENT |
| CMLP | alpha | ROLL | ROLL DAMPING DERIVATIVE |
| CMLBETADOT | alpha | ROLL | ROLL MOMENT DERIVATIVE FOR BETA DOT |
| CMLDADL | alpha,beta | ROLL | ROLLING MOMENT DUE TO LEFT AILERON DEFLECTION |
| CMLDADR | alpha,beta | ROLL | ROLLING MOMENT DUE TO RIGHT AILERON DEFLECTION |
| CMLDRD | alpha,beta | ROLL | ROLLING MOMENT DUE TO RUDDER DEFLECTION |
| CMLR | alpha | ROLL | ROLLING MOMENT DUE TO YAW RATE |
| CMLDSPL | alpha,spoiler-left | ROLL | ROLLING MOMENT INCREMENT DUE TO SPOILERS LEFT |
| CMLDSPR | alpha,spoiler-right | ROLL | ROLLING MOMENT INCREMENT DUE TO SPOILERS RIGHT |
| CFYB | alpha,beta,elevator | SIDE | BASE SIDEFORCE |
| CYDADL | alpha,beta | SIDE | SIDE FORCE DUE TO LEFT AILERON DEFLECTION |
| CYDADR | alpha,beta | SIDE | SIDE FORCE DUE TO RIGHT AILERON DEFLECTION |
| CFYP | alpha | SIDE | SIDE FORCE DUE TO ROLL RATE |
| CYDRD | alpha,beta | SIDE | SIDE FORCE DUE TO RUDDER DEFLECTION |
| CFYR | alpha | SIDE | SIDE FORCE DUE TO YAW RATE |
| CFYDSPL | alpha,spoiler-left | SIDE | SIDEFORCE INCREMENT DUE TO SPOILERS LEFT |
| CFYDSPR | alpha,spoiler-right | SIDE | SIDEFORCE INCREMENT DUE TO SPOILERS RIGHT |
| CMN1 | alpha | YAW | BASE YAWING MOMENT |
| CMNR | alpha | YAW | YAW DAMPING DERIVATIVE |
| CMNBETADOT | alpha | YAW | YAW MOMENT DERIVATIVE FOR BETA DOT |
| CMNP | alpha | YAW | YAW MOMENT DUE TO ROLL RATE |
| CMNDADL | alpha,beta | YAW | YAWING MOMENT DUE TO LEFT AILERON DEFLECTION |
| CMNDADR | alpha,beta | YAW | YAWING MOMENT DUE TO RIGHT AILERON DEFLECTION |
| CMNDRD | alpha,beta | YAW | YAWING MOMENT DUE TO RUDDER DEFLECTION |
| CMNDED | alpha,elevator | YAW | YAWING MOMENT INCREMENT DUE TO ELEVATOR |
| CMNDSPL | alpha,spoiler-left | YAW | YAWING MOMENT INCREMENT DUE TO SPOILERS LEFT |
| CMNDSPR | alpha,spoiler-right | YAW | YAWING MOMENT INCREMENT DUE TO SPOILERS RIGHT |
Coefficient Buildup
| Axis | Buildup |
| --- | --- |
| DRAG | CFXB + CFXDADL*aileron-left + CFXDADR*aileron-right + CFXDRD*rudder + CFXDSM + CFXDFM + CFXDSPL + CFXDSPR + CFXGEAR*gear + CFXMN |
| ROLL | CML1 + CMLDADL*aileron-left + CMLDADR*aileron-right + CMLDRD*rudder + CMLDSPL + CMLDSPR + CMLBETADOT*aero/bi2vel*BETADOT + CMLP*PB + CMLR*RB |
| SIDE | CYDADL*aileron-left + CYDADR*aileron-right + CYDRD*rudder + CFYDSPL + CFYDSPR + CFYB + CFYP*PB + CFYR*RB |
| LIFT | CFZDADL*aileron-left + CFZDADR*aileron-right + CFZDRD*rudder + CFZDSM + CFZDFM + CFZDSPL + CFZDSPR + CFZGEAR*gear + CFZB + CFZDDS + CFZMN |
| PITCH | CMMDADL*aileron-left + CMMDADR*aileron-right + CMMDRD*rudder + CMMDSM + CMMDFM + CMMDSPL + CMMDSPR + CMMGEAR*gear + CMM1 + CMMDDS + CMMMN + CMMALPHADOT*aero/ci2vel*ALPHADOT + CMMBETADOT*aero/ci2vel*BETADOT + CMMQ*QB |
| YAW | CMNDADL*aileron-left + CMNDADR*aileron-right + CMNDRD*rudder + CMNDSPL + CMNDSPR + CMN1*beta + CMNDED*beta + CMNBETADOT*aero/bi2vel*BETADOT + CMNR*RB + CMNP*PB |
Mass and balance
| Element | X | Y | Z | Unit |
| --- | --- | --- | --- | --- |
| Aerodynamic Reference Point (CoP) | 16.10 | 0.00 | 0.00 | M |
| Aircraft CG | 15.30 | 0.00 | 0.00 | M |
| Element |   | Unit |
| --- | --- | --- |
| IXX | 611903.00 | SLUG*FT2 |
| IYY | 1735389.00 | SLUG*FT2 |
| IZZ | 2301293.00 | SLUG*FT2 |
| IXZ | 0.00 | SLUG*FT2 |
| Element | X | Y | Z | Unit | Weight |
| --- | --- | --- | --- | --- | --- |
| AftCargo | 24.56 | 0.00 | -1.18 | M | 3000 LBS |
| FwdCargo | 13.08 | 0.00 | -1.18 | M | 3000 LBS |
| PAX | 18.82 | 0.00 | 0.19 | M | 23000 LBS |
| Crew | 5.30 | 0.00 | -0.66 | M | 3800 LBS |
Ground Reactions
| Element | X | Y | Z | Unit | Index |
| --- | --- | --- | --- | --- | --- |
| NoseGear | 7.52 | 0.00 | -4.31 | M | 0 |
| LeftMainGear | 20.32 | -4.26 | -4.52 | M | 1 |
| RightMainGear | 20.32 | 4.26 | -4.52 | M | 2 |
Metrics
| Element |   | Unit |
| --- | --- | --- |
| Chord | 4.82 |   |
| Wingspan | 37.06 | M |
| Wing Area | 141.01 | M2 |
| Wing Incidence | 0.00 |   |
| ClMax | 1.60 | ND |
Propulsion
| Element | X | Y | Z | Unit | Feed |
| --- | --- | --- | --- | --- | --- |
| v2527_a5 | 14.40 | -5.76 | -1.05 | M | CenterTank [0],LeftWing [1],RightWing [2],Engine2Pipes [3],Engine1Pipes [4] |
| v2527_a5 | 14.40 | 5.76 | -1.05 | M |   |
Tanks
| Element | X | Y | Z | Unit | Capacity | Id | Priority | Standpipe |
| --- | --- | --- | --- | --- | --- | --- | --- | --- |
| CenterTank | 18.97 | 0.00 | -0.61 | M | 14281 LBS | 0 | 1 | 10 LBS |
| LeftWing | 18.92 | -5.11 | -0.61 | M | 13914 LBS | 1 | 1 | 10 LBS |
| RightWing | 18.92 | 5.11 | -0.61 | M | 13914 LBS | 2 | 1 | 10 LBS |
| Engine2Pipes | 18.82 | 0.00 | 0.19 | M | 10 LBS | 3 | 1 | 10 LBS |
| Engine1Pipes | 18.82 | 0.00 | 0.19 | M | 10 LBS | 4 | 1 | 10 LBS |
Systems
Name
A320-200-flight-controls
Independent variables
Name
aero/alpha-deg
aero/alphadot-rad_sec
aero/beta-deg
aero/betadot-rad_sec
aero/bi2vel
aero/ci2vel
aero/pb
aero/qb
aero/rb
fcs/flap-pos-deg
fcs/pitch-pos-deg
fcs/pitch-trim-pos-deg
fcs/roll-pos-left-deg
fcs/roll-pos-right-deg
fcs/slat-pos-deg
fcs/speedbrake-left-deg
fcs/speedbrake-right-deg
fcs/yaw-pos-deg
gear/gear-pos-norm
velocities/mach